Kids.  Even parents who watch them everyday can underestimate how different their experiences are from our own.  This can be great – watching kids experience something for the first time is a wonderful way to remember your own childlike appreciation – but sometimes frustrating.  Trying, for example, to convince your four-year-old that eating local is important for the environment or the economy is kind of fruitless when she's presented with an unfamiliar food.  Sorry, Mom and Dad: kale is not delicious to everyone.  Or at least, not at first.
It's widely believed that a palate is cultivated from toddler age, something learned. One of the things recommended for parents teaching their kids to eat new foods is to offer them when the kids are hungry.  This works for adults too!  If you're teaching yourself to appreciate something, sit down hungry and put a "no-thank-you portion" on your own plate.  Then eat that first.  Hunger is the best seasoning, after all.
Hunger's never enough, though.  Plopping a raw beet onto a kid's plate is not going to win you awards for Parent-Chef of the Year or encourage them to love beets which, being the candy of the vegetable world, can be surprisingly easy for kids to enjoy.  Aside from their sweet flavour, they're fun food.  There's nothing like finger-painting on your place-mat with Hallowe'en Massacre-coloured vegetables.  Not to mention the hoots of delight and amusement generated from the washroom the
next day when the inevitable, colourful "end results" of eating beets manifest themselves.  (Note:  this is actually a selling factor for those with the bodies or hearts of children under 10.)
Here are a few recipes we've been testing out for ease of use and kid-friendly appeal:
Cut raw beets into bite-size pieces and drop the pieces into a boiling mixture of half white vinegar and half water, plus a good shot of sugar and a pinch of salt. Take off the heat immediately, and serve chilled. These keep for weeks and are ready as soon as they're cold.  They maintain a great crunch and can be stored for weeks in the fridge.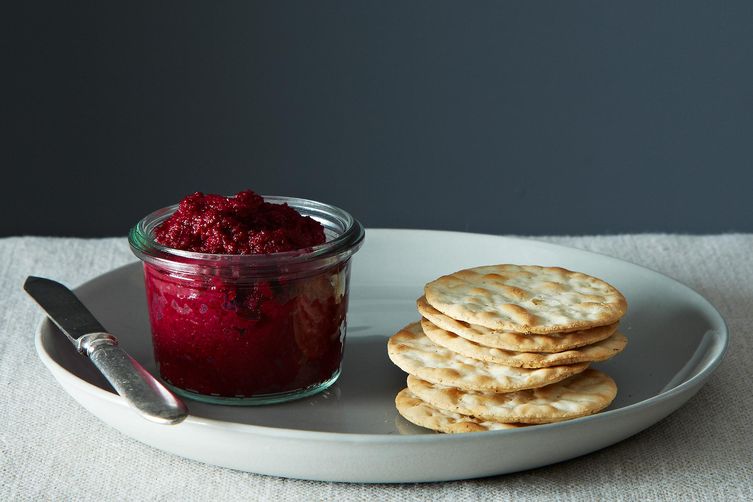 Beet Hummus
Great with veggie sticks, crackers, veggie and potato chips and on toast.  Can be served as baby food – but maybe keep a good hold on the spoon when feeding to avoid a red explosion.  Thanks to food52.com for this recipe!

1 pound cooked beets (boiled, or roasted if you want a little caramel flavour) quartered
1/4 cup walnuts, toasted and roughly chopped
2 tablespoons lemon juice
1/2 tablespoon tahini (we've been known to substitute peanut butter)
1/2 teaspoon ground cumin
1 garlic clove
1 tablespoon olive oil
1/2 teaspoon salt
Place all the ingredients in a food processor and blend until smooth, stopping occasionally to scrape down the sides. Taste throughout and adjust the balance as you see fit. Serve immediately or refrigerate, covered.
Beet Pancakes
These are actually both pretty and delicious!  Check out this and other great beety kids' recipes from parenting.com.
Sift together 1 cup all-purpose flour, 3/4 cup whole-wheat flour, 3 Tbsp brown sugar, 1 Tbsp baking powder, and 1/2 tsp kosher salt into a bowl. Add 3/4 cup beat puree; 1 1/4 cups milk; cup plain Greek yogurt; 1 large egg; 3 Tbsp unsalted butter, melted; and 1 tsp vanilla in another bowl and whisk.
Add dry ingredients into wet and stir until just combined. Drop about 2 Tbsp of the pancake mixture onto a greased pan over medium heat; cook 3 minutes on each side.
Serve with honey, syrup, or raspberry sauce.